Disposable three-layer drapes 3A MEDICAL IIR S ÚVAZKY, pack of 50 ks
Product code J3R006
Availability In stock We ship within 24 hours of payment being credited to our account
Number of pieces in the package 50
CENA: 80 Kč/balení (1,60 Kč/ks)


Rozdáváme dárky k nákupu zdarma! Při nákupu v hodnotě:
501,0 Kč - 1 000,0 Kč
Hand disinfectant gel ANIOSGEL 800, 30 ml
1 001,0 Kč - 1 500,0 Kč
Protective hand cream Creme protectrice ANIOS, 50 ml
> 1 501,0 Kč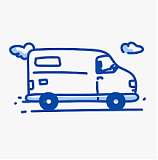 Free shipping
SINGLE-PURPOSE THREE-PIECE HANDBAGS with filter class IIR, BFE > 98%, 50 pcs in a box. Price 1,60 CZK/pc.

Surgical drape designed for medical, dental, office and home use. This drape can be used wherever high demands on hygiene are made. The box contains 50 pieces of drapes, AJ instructions for use, product description, manufacturer's marking, date of manufacture and expiry, EAN code, CE marking, pictogram instructions. The product is duly registered in the EU and has a TÜV test report.