Coloured respirator FFP2 NR FAMEX, mix of colours, pack of 12 pcs - for men
Product code RF2042
Availability In stock We ship within 24 hours of payment being credited to our account
Number of pieces in the package 12
We give away free gifts with purchase For purchases worth:
1 000,0 Kč - 1 500,0 Kč
Hand disinfectant gel ANIOSGEL 800, 30 ml
1 501,0 Kč - 2 000,0 Kč
Protective hand cream Creme protectrice ANIOS, 50 ml
> 2 001,0 Kč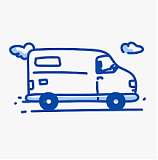 Free shipping
Respirators FFP2 NR with certification, mix of colours. Price 8,90 CZK/pc.

Certified 5-layer FFP2 NR respirators in black, dark green, dark red, dark blue, grey, beige and white. These FFP2 NR respirators come in more of a dark colour scheme and traditional white, which is sure to be appreciated by many a practical man. They have a nose clip and ear clips. Packaged in a resealable bag.

High filtration efficiency: > 94%.

These respirators meet the standard according to Directive (EU) 2016/425 EN149:2001 + A1:2009.