Colour respirator FFP2 NR FAMEX, mix of colours, pack of 12 pcs - for ladies
Product code RF2041
Availability In stock We ship within 24 hours of payment being credited to our account
Number of pieces in the package 12
We give away free gifts with purchase For purchases worth:
1 000,0 Kč - 1 500,0 Kč
Hand disinfectant gel ANIOSGEL 800, 30 ml
1 501,0 Kč - 2 000,0 Kč
Protective hand cream Creme protectrice ANIOS, 50 ml
> 2 001,0 Kč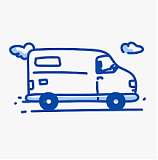 Free shipping
Colour 5-layer FFP2 NR respirators with certification.

The respirators have a nose clip, thanks to which you can shape the respirator to your nose and also clamping rubber bands behind the ears. Respirators are reliable protection against aerosols, droplets and particles and are comfortable to wear. The pack contains 12 colourful FFP2 NR respirators. You will appreciate the practical resealable bag not only when travelling.

High filtration efficiency: > 94%.

These respirators meet the standard according to Directive (EU) 2016/425 EN149:2001 + A1:2009.