Coloured respirator FFP2 NR FAMEX, mix of colours, pack of 12 - for men
Product code RF2042
Availability In stock We ship within 24 hours of payment being credited to our account
Number of pieces in the package 12
CENA: 106,80 Kč/balení (8,90 Kč/ks)


Rozdáváme dárky k nákupu zdarma! Při nákupu v hodnotě:
501,0 Kč - 1 000,0 Kč
Hand disinfectant gel ANIOSGEL 800, 30 ml
1 001,0 Kč - 1 500,0 Kč
Protective hand cream Creme protectrice ANIOS, 50 ml
> 1 501,0 Kč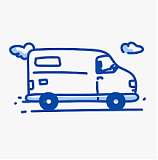 Free shipping
Respirators FFP2 NR with certification, mix of colours. Price 8,90 CZK/pc.

Certified 5-layer FFP2 NR respirators in black, dark green, dark red, dark blue, grey, beige and white. These FFP2 NR respirators come in more of a dark colour scheme and traditional white, which is sure to be appreciated by many a practical man. They have a nose clip and ear clips. Packaged in a resealable bag.

High filtration efficiency: > 94%.

These respirators meet the standard according to Directive (EU) 2016/425 EN149:2001 + A1:2009.