Blood rapid test COVID-19 (SARS-CoV-2) IgG/IgM Antibody Test Kit, pack of 25 ks
Product code PRL001
Availability In stock We ship within 24 hours of payment being credited to our account
Number of pieces in the package 25
CENA: 2 250 Kč/balení (90 Kč/ks)


Rozdáváme dárky k nákupu zdarma! Při nákupu v hodnotě:
501,0 Kč - 1 000,0 Kč
Hand disinfectant gel ANIOSGEL 800, 30 ml
1 001,0 Kč - 1 500,0 Kč
Protective hand cream Creme protectrice ANIOS, 50 ml
> 1 501,0 Kč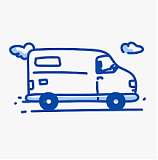 Free shipping
BLOOD QUICK TEST FOR ANTIBODIES COVID -19 WITH RESULT IN 10 MINUTES (price 90 CZK/pc)

Blood test kit for IgG/IgM antibodies against COVID-19 (SARS-CoV-2) with result within 10 minutes. It is used for qualitative detection of IgG/IgM antibodies against the new coronavirus in human serum, plasma and whole blood. Common symptoms of infection include respiratory problems, fever, cough, wheezing, shortness of breath, etc. In more severe cases, infection can cause pneumonia, severe acute respiratory syndrome, renal failure and even death. Coronaviruses can leave the body through respiratory secretions, transmitted by oral fluids, sneezing, contact and airborne aerosols. The test is intended for professional medical use only.

Includes 25 test pcs, collection pipettes, sterile ejection needles, 1 buffer bottle, instructions for use.