Disposable three layer drape Medizer, TYPE IIR "KIDS girls " (10 pcs/pack)
Product code J3R010
Availability In stock We ship within 24 hours of payment being credited to our account
Number of pieces in the package 10
We give away free gifts with purchase For purchases worth:
1 000,0 Kč - 1 500,0 Kč
Hand disinfectant gel ANIOSGEL 800, 30 ml
1 501,0 Kč - 2 000,0 Kč
Protective hand cream Creme protectrice ANIOS, 50 ml
> 2 001,0 Kč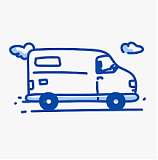 Free shipping
DISPOSABLE THREE-LAYER CHILDREN'S DRAPES MEDIZER WITH RUBBER BAND Grade II

Colorful baby drapes for boys with rubber bands behind their ears. In the package you will find 10 pieces of baby drapes, Czech instructions for use, product description, manufacturer's designation, date of manufacture and expiration, importer's designation MEDICAL PROTECT, s.r.o., EAN code, CE marking and pictogram instructions.

Composition of childre's drapes: 70 % non-woven fabric, 30 % melt-blown filter layer (filter non-woven fabric).

Size of the drape 14.5 x 9.5 cm, BFE > 98%.