Respirator FFP3 NR IVROU IRYS - 03, shell, pack of 20 pcs
Product code RF3001A
Availability In stock We ship within 24 hours of payment being credited to our account
Number of pieces in the package 5
We give away free gifts with purchase For purchases worth:
1 000,0 Kč - 1 500,0 Kč
Hand disinfectant gel ANIOSGEL 800, 30 ml
1 501,0 Kč - 2 000,0 Kč
Protective hand cream Creme protectrice ANIOS, 50 ml
> 2 001,0 Kč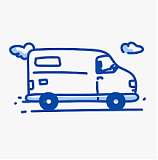 Free shipping
PROTECTIVE RESPIRATORS CLASS FFP3 NR

These premium "shell" respirators do not contain an exhalation valve, so the wearer does not endanger his surroundings by the possible transmission of not only viruses but also bacteria. The FFP3 NR class respirator provides the highest protection against viruses and bacteria with a filtration efficiency of more than 99% according to EU standards and perfectly absorbs sweat. This is the recommended protection against coronavirus COVID-19. The rubber bands of these special respirators are attached to the head.

The box contains 20 FFP3 respirators (4 resealable bags of 5 respirators each), instructions, quality certificate.