Infrared non-contact thermometer HYGISUN
Product code TI001
Availability In stock We ship within 24 hours of payment being credited to our account
Rozdáváme dárky k nákupu zdarma! Při nákupu v hodnotě:
501,0 Kč - 1 000,0 Kč
Hand disinfectant gel ANIOSGEL 800, 30 ml
1 001,0 Kč - 1 500,0 Kč
Protective hand cream Creme protectrice ANIOS, 50 ml
> 1 501,0 Kč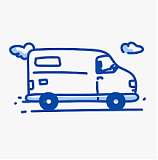 Free shipping
INFRARED CONTACTLESS HEAT METER, price 590 CZK/pc.

This latest model of non-contact thermometer can measure the temperature of you or your children in a fraction of a second. No unpleasant fighting and arguing even with the little ones. Just point it at the forehead just below the hair and press the button. The accurate measuring system displays the temperature to within 0.2°C. For a better display, the display will colour according to the measured temperature. The display will be green for normal temperature, orange for elevated temperature and red for fever. Supplied with 2 3A batteries.