Government approves new measures or what changes from 25 October 2021
Vzhledem ke zhoršující se epidemiologické situaci dochází ke zpřísnění vládních opatření. Od pondělí 25. 10. 2021 se rozšiřují situace, při kterých je nutné používat respirátor. Týká se to konkrétně hromadných akcí a částečně pracovišť.
Jaké konkrétní změny nastanou?
Při hromadných akcích ve vnitřních prostorech budou od pondělí vždy povinné respirátory. Už se nebude zohledňovat počet účastníků. Dosud omezení platilo pro akce od 10 osob a výše. Vrací se povinnost nošení respirátoru na pracovištích se dvěma výjimkami: Pokud zaměstnanec pracuje sám, pak nebude nutné, aby nosil respirátor. Pokud však bude v přítomnosti jiných kolegů nebo sdílí kancelář s jinými osobami, pak by respirátor měli nosit všichni (zdroj). Do toho však vstupuje ještě druhá výjimka, která říká, že respirátor se nemusí nosit, pokud se v okolí nachází osoba, která je dál než 1,5 m. Je-li však nějaká osoba blíž než 1,5 m, pak je respirátor povinný (zdroj).
Jak vybrat správný respirátor?
Na trhu je řada různých respirátorů, jak se tedy zorientovat v této nabídce a vybrat ten správný? Vysvětlíme vám, jaká jsou nejdůležitější kritéria pro Českou republiku, resp. Evropu (zdroj).
Splnění certifikací a norem
Před samotným uvedením respirátoru na evropský trh musí být posouzena shoda s požadavky Nařízení Evropského parlamentu a Rady (EU) 2016/425 o osobních ochranných prostředcích (zkráceně OOP). To, že tyto požadavky daný respirátor splňuje, je možné prokázat prostřednictvím normy EN 149:2001+A1:2009. Respirátory spadají do nejpřísnější kategorie III, tedy mezi ochranné prostředky, což znamená, že uživatele chrání před závažným poškozením zdraví s možnými trvalými následky nebo dokonce smrtí.
Z tohoto důvodu zahrnuje posouzení shody i certifikaci oznámeným subjektem (neboli notifikovanou osobou, která musí být registrovaná v evropské certifikační databázi NANDO). Povinnou součástí tohoto postupu je testování dle příslušného technického standardu ve zkušebně (u oznámeného subjektu). Po posouzení shody a udělení certifikátu výrobce vydá tzv. prohlášení o shodě a umístí na respirátor označení CE.
Vedle tohoto označení se ještě uvádí čtyřmístné číslo příslušného oznámeného subjektu, který nad výrobkem a jeho výrobou vykonává dohled.
Zjednodušeně: U respirátorů vždy hledejte certifikaci CE se čtyřmístným číslem, dále pak normu dle nařízení 2016/425 EN 149:2001+A1:2009. Pro lepší představu, jak to vlastně má vypadat, se podívejte na obrázek: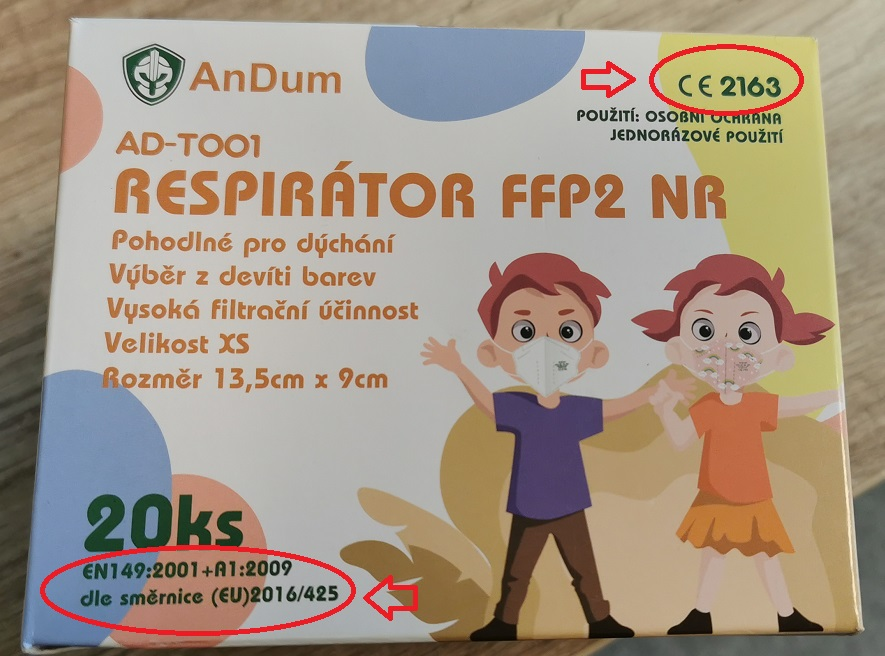 Na samotném respirátoru musí být uvedeno následující:
výrobce
typ respirátoru
CE se čtyřmístným kódem
norma EN 149:2001+A1:2009
Evropský standard pro respirátory: FFP1, FFP2 a FFP3 a co to vlastně znamená?
| | | | |
| --- | --- | --- | --- |
| | FFP1 | FFP2 | FFP3 |
| Účinnost filtrace | ≥ 80 % | ≥ 94 % | ≥ 99 % |
| Testovací látka | NaCl a parafinový olej | NaCl a parafinový olej | NaCl a parafinový olej |
| Celkový průnik (TIL) | ≤ 22 % (aritmetický průměr) | ≤ 8 % (aritmetický průměr) | ≤ 2 % (aritmetický průměr) |
Účinnost filtrace nám říká o kolik % se sníží aerosol, který přes filtr správně nasazeného respirátoru projde až k jeho nositeli.
Testovací látka se vybírá tak, aby svou velikostí a tvarem co nejvíce odpovídala částicím a aerosolům, před kterými má respirátor chránit své nositele.
Celkový průnik (total inward leakage – TIL) nám udává množství aerosolu, který vstupuje do testovaného respirátoru v okamžiku, kdy nositel tohoto respirátoru provádí sérii cvičení v testovací komoře.
Respirátor FFP NR – vysvětlení zkratek
FFP je zkratka z anglického termínu "Filtering Facepiece", v překladu "Filtrační obličejová maska".
NR je rovněž z angličtiny a značí "not reusable", v překladu "pro jednorázové použití".
Abychom vám výběr co nejvíce usnadnili, najdete na našem e-shopu respirátory FFP2 NR s certifikací, tedy respirátory, které splňují vše, co je výše popsáno, a navíc si můžete vybírat i z více barevných variant:
Navíc jsme pro vás připravili i zajímavé ceny.