Quick test for antibodies from blood AMP Rapid Test SARS-CoV-2 IgG/IgM,pack of 25 ks
Product code PRL002
Availability In stock We ship within 24 hours of payment being credited to our account
Number of pieces in the package 25
CENA: 2 475 Kč/balení (99 Kč/ks)


Rozdáváme dárky k nákupu zdarma! Při nákupu v hodnotě:
501,0 Kč - 1 000,0 Kč
Hand disinfectant gel ANIOSGEL 800, 30 ml
1 001,0 Kč - 1 500,0 Kč
Protective hand cream Creme protectrice ANIOS, 50 ml
> 1 501,0 Kč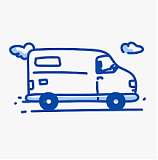 Free shipping
COVID -19 BLOOD QUICK TEST WITH RESULT IN 10 MINUTES (price 99 CZK/pc)

The AMP RAPID SARS-CoV-2 IgG/IgM blood test kit is a rapid immunochromatographic test for the qualitative detection of IgG and IgM antibodies to SARS-CoV-2 from whole blood, serum and plasma. It serves as a tool for rapid and efficient diagnosis of COVID-19. The test is simple to use and can be performed without the availability of laboratory equipment with results within 10 minutes. Comparisons in a clinical study with RT-PCR showed high sensitivity and specificity for both IgG and IgM. The test is intended for professional medical use only.

Included in the package are 25 pcs of tests, sampling pipettes, sterile ejection needles, 1 pcs of buffer vial, instructions for use.