Wipes for disinfecting surfaces and surfaces INCIDIN ALCOHOL WIPE, FLOW PACK XL, pack of 50 pcs
Product code DUNP002
Availability In stock We ship within 24 hours of payment being credited to our account
We give away free gifts with purchase For purchases worth:
1 000,0 Kč - 1 500,0 Kč
Hand disinfectant gel ANIOSGEL 800, 30 ml
1 501,0 Kč - 2 000,0 Kč
Protective hand cream Creme protectrice ANIOS, 50 ml
> 2 001,0 Kč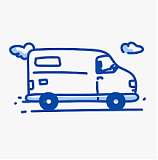 Free shipping
ALCOHOL UBROUSKY FOR QUICK DISINFECTION OF SURFACES

Incidin Alcohol Wipe leaves no residue and has a wide spectrum of effectiveness combined with a short exposure time, making it ideal for use not only in healthcare facilities. Its wide disinfecting power ensures compliance with hygiene standards and prevents the spread of pathogens. The pack contains 50 XL wet wipes with a size of 25 x 37cm. One wipe can disinfect an area of 1 m2.