World Handwashing Day on 15 October
15.10.2021 Mgr. Eva Šišoláková
Světová zdravotnická organizace (WHO) vyhlásila datum 15. 10. 2021 za Světový den mytí rukou:
WHO uvádí, že ruce jsou hlavními cestami přenosu zárodků, a proto je mytí rukou nejdůležitějším opatřením, jak se vyhnout šíření infekcí a udržovat lidi zdravé. Podle UNICEF může jednoduchý úkon mytí rukou po odchodu z toalety nebo před jídlem snížit riziko průjmu u dětí o více než 40 procent. Dále uvádí, že v případě COVID-19 je pravděpodobné, že mytí rukou sníží šance na infekci COVID-19 o 36 procent (zdroj).
Už jako malým dětem nám říkali: "Umyj si ruce a pojď ke stolu!" nebo: "Než odejdeš z toalety, umyj si ruce!" anebo: "Přišel jsi z venku, tak si umyj ruce!" Jistě vás napadne řada dalších příkladů, kdy vám rodiče zdůrazňovali mytí rukou. A i v tomto případě platí: co se v mládí naučíš…
Zkrátka a jasně: hygiena rukou je velmi důležitá. Je to totiž nejjednodušší způsob, alespoň u nás, kde je dostatek vody, jak předcházet nemocem. Přesto na to často zapomínáme, a proto neuškodí malé připomenutí.
Takže, kdy si umýt ruce? Pokaždé, kdy máme pocit, že jsou naše ruce špinavé. Když jsme sahali na něco špinavého nebo na něco, u čeho si nejsme jisti, zda to bylo umyto, přičemž toto pravidlo se týká i ovoce a zeleniny. Je dobré umýt si ruce i po tom, co jsme hladili nějaké zvíře. Na to pamatují hlavně alergici.
Malé shrnutí každodenních situací, kdy je vhodné umýt si ruce, nabízí i MZČR (zdroj):
Ruce si myjte pravidelně několikrát za den. Zde pro inspiraci uvádíme příklady každodenních situací, po kterých je dobré si ruce umýt:
po smrkání, kašlání a kýchání
po návštěvě lékaře či zdravotnického zařízení
po příchodu domů z venku
po manipulaci s penězi
po použití hromadné dopravy
po použití nákupního vozíku
před a po přípravě i konzumaci jídla
po použití toalety
po vynesení odpadků
před péčí o miminko a po přebalení
A jak si správně ruce mýt? Může se to možná zdát jako banalita, s příchodem Covid-19 jsme každopádně zjistili, že řada z nás si ruce nemyje správným způsobem. Přinášíme vám proto jednoduchý návod, kterým je dobré se řídit (zdroj).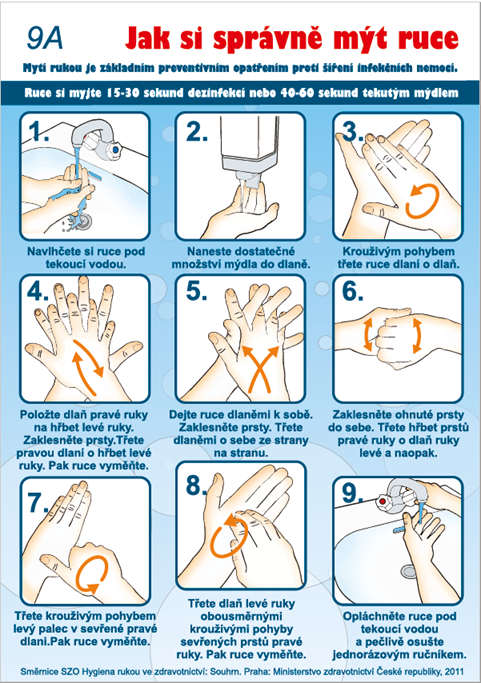 Čím si mýt ruce? Kvalitním dezinfekčním mycím prostředkem, který je vhodný pro časté mytí a zároveň je účinný a šetrný k vaší pokožce. V naší nabídce najdete Mycí emulze MANISOFT pro časté mytí rukou a dezinfekční mycí emulze SKINSAN SCRUB N, 5 l, která je účinná proti bakteriím, kvasinkám a obaleným virům a vykazuje reziduální účinnost delší než 24 hodin.
Pokud hledáte vhodnou dezinfekci, kterou můžete použít kdykoliv i na cestách, pak doporučujeme dezinfekční gel ANIOSGEL 800. Plně virucidní alkoholová dezinfekce rukou ve formě gelu, je vyrobena především z BIO ethanolu a glycerolu, a to bez přidaných barviv a parfemace. Účinnost tohoto dezinfekčního gelu je prokázána na 99,9 % mikroorganismů vč. účinnosti na celou škálu koronavirů. Dezinfekční gel je dodáván v plastové lahvičce s press uzávěrem.