World Handwashing Day on 15 October
15.10.2021 MEDICAL PROTECT
The World Health Organization (WHO) has declared 15 October 2021 as World Handwashing Day:
The WHO states that hands are the main routes of transmission of germs, making handwashing the most important measure to avoid the spread of infections and keep people healthy. According to UNICEF, the simple act of washing hands after leaving the toilet or before eating can reduce the risk of diarrhoea in children by more than 40 per cent. It further states that in the case of COVID-19, handwashing is likely to reduce the chances of COVID-19 infection by 36 percent (source).
Even as young children we were told, "Wash your hands and come to the table!" or "Wash your hands before you leave the toilet!" or "You came from outside, so wash your hands!" I'm sure you can think of many other examples of your parents emphasizing hand washing. And in this case, too: what you learn when you're young...
In short: hand hygiene is very important. It is the easiest way, at least in our country where there is plenty of water, to prevent disease. Yet we often forget, so a little reminder doesn't hurt.
So, when to wash your hands? Whenever we feel our hands are dirty. When we touch something dirty or something we're not sure if it's been washed, and this rule applies to fruits and vegetables as well. It is also a good idea to wash our hands after we have petted an animal. Allergy sufferers especially remember this.
A small summary of everyday situations when it is advisable to wash your hands is also offered by the Ministry of Health (source):
Wash your hands regularly several times a day. For inspiration, here are examples of everyday situations after which it is a good idea to wash your hands:
After a sniffle,
coughing and sneezing
After visiting a doctor or health care facility
after coming home from outdoors
after handling money
after using public transport
after using a shopping trolley
before and after preparing and eating food
after using the toilet
after taking out the garbage
before caring for the baby and after changing the baby
And how to wash your hands properly? It may seem like a trivial matter, but with the advent of Covid-19, we've discovered that many of us don't wash our hands the right way. So here's a simple guide to follow (source).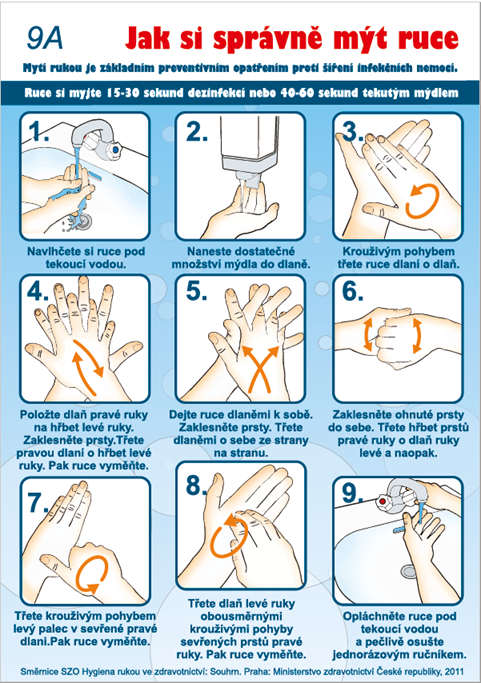 What do I wash my hands with? With a good quality disinfectant hand wash that is suitable for frequent washing and is also effective and gentle on your skin. In our range you will find MANISOFT Handwashing Emulsion for frequent handwashing and SKINSAN SCRUB N Disinfectant Handwashing Emulsion, 5 l, which is effective against bacteria, yeasts and enveloped viruses and has a residual effect of more than 24 hours.
If you are looking for a suitable disinfectant that can be used at any time and on the move, then we recommend ANIOSGEL 800 disinfectant gel. A fully virucidal alcohol hand sanitizer in gel form, it is made primarily from BIO ethanol and glycerol, and is free of added colorants and perfumes. The efficacy of this disinfectant gel is proven on 99.9% of microorganisms, including efficacy on a wide range of coronaviruses. The disinfectant gel is supplied in a plastic bottle with press cap.