Disposable protective caps made of non-woven fabric, blue, packing 100 pcs
Product code JOC001
Availability In stock We ship within 24 hours of payment being credited to our account
Number of pieces in the package 100
We give away free gifts with purchase For purchases worth:
1 000,0 Kč - 1 500,0 Kč
Hand disinfectant gel ANIOSGEL 800, 30 ml
1 501,0 Kč - 2 000,0 Kč
Protective hand cream Creme protectrice ANIOS, 50 ml
> 2 001,0 Kč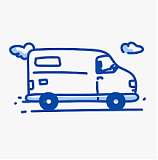 Free shipping
Cap made of non-woven fabric type "clip".

The cap is made of fine non-woven fabric of Spunbond type, slightly tightened with elastic around the perimeter. Folds into an accordion. This cap finds use in cosmetic and tattooing and also in food production, e.g. in the production of confectionery or fish processing.

Size: 53 cm

Conformity to standards: MDD 93/42.