Protective shoe cover, LOW
Product code NNO002
Availability In stock We ship within 24 hours of payment being credited to our account
Number of pieces in the package 200
We give away free gifts with purchase For purchases worth:
> 3 001,0 Kč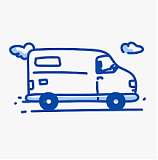 Doprava zdarma
PROTECTIVE LINE FOR SHOES LOW, 100% POLYPROPYLENE SMS, 40g/m2

Disposable non-woven shoe cover made of polypropylene, 40g/m2, made by combination of spunbond (S) and meltblown (M) technologies. The basic characteristic of this type of non-woven fabric is its barrier properties, which are used to prevent the penetration of dirt, dust or minor liquid penetration. In compliance with the European Directive (EU) 2016/425, it complies with the standards of ČSN EU 340, ČSN ISO 13688:2014 (EN ISO 13688:2013). This is a category 1 protective clothing. Health-safe, also suitable for medical use. Universal size.

Packed in a box of 200 pieces. The minimum quantity is therefore 200 pieces.