Touchless wall dispenser ANIOS lockable
Product code DAN003
Availability In stock We ship within 24 hours of payment being credited to our account
We give away free gifts with purchase For purchases worth:
1 000,0 Kč - 1 500,0 Kč
Hand disinfectant gel ANIOSGEL 800, 30 ml
1 501,0 Kč - 2 000,0 Kč
Protective hand cream Creme protectrice ANIOS, 50 ml
> 2 001,0 Kč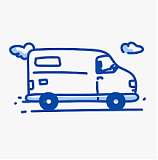 Free shipping
LOCKLESS LOCKLESS SUPPLIES FOR SOAP AND DISINFECTIONS ANIOS brand

This dispenser is installed on the wall and is designed for BLUE AIRELESS 1 l hand sanitizing gel bottles for the application of liquid and gel sanitizer as well as soap. The lockable hand sanitizer dispenser is suitable for both hygienic and surgical hand sanitization in healthcare, social care institutions, food processing etc. It comes with 4 1.5 V AA batteries and a mounting kit for wall mounting.

The advantage of the lockable packaging is that you prevent theft of the dispenser contents.