children's respirator FFP2 NR LEIKANG, pack of 20 pcs
Product code RF2021
Availability In stock We ship within 24 hours of payment being credited to our account
Number of pieces in the package 20
We give away free gifts with purchase For purchases worth:
1 000,0 Kč - 1 500,0 Kč
Hand disinfectant gel ANIOSGEL 800, 30 ml
1 501,0 Kč - 2 000,0 Kč
Protective hand cream Creme protectrice ANIOS, 50 ml
> 2 001,0 Kč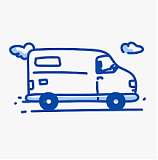 Free shipping
White children's respirator FFP2 NR with certification. In the package there are 20 pcs of children's respirators, plastic clip allowing to wear the respirator without pressure on the ears, instructions and quality certificate. Each respirator is packed separately, which is a great advantage not only for travel. This pack allows you to put a respirator in your child's bag or pocket without worrying. The children's respirator has clamping elastics behind the ears and a nose clip, so you can easily shape it to your face. Always make sure the respirator is properly fitted to your child's face.

The FFP2 NR child respirator complies with EN 149:2001 + A1:2009 according to Directive (EU) 2016/425.