O-T-N system - most common situations
What is the O-T-N system?
Vaccination - Test - Illness - this is a way for us to prove that we meet the requirements for entry into various establishments, institutions, etc. According to the MOH, it is a way to reduce further lockdowns and return to normal life as well as a way to protect customers and staff from contracting covid-19.
Many of us wonder what regulations apply to restaurants, sports games, swimming pools and other places where we like to spend our leisure time. That is why the Ministry of Health has also prepared information materials for free use by operators of restaurants, hotels, bars and other services, and we want to make them available to you to help you navigate the current situation.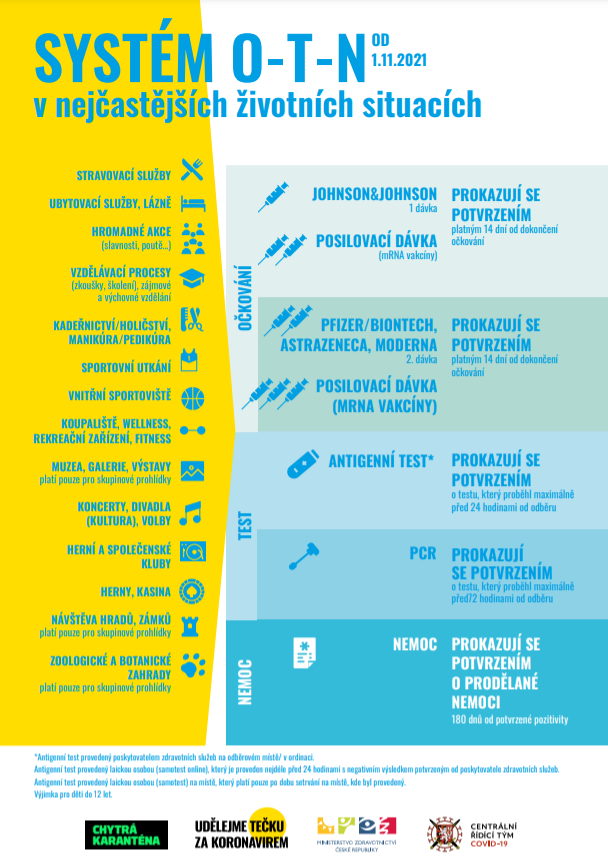 As it follows from this leaflet prepared by the Ministry of Health of the Czech Republic, it is possible to use the self-tests on the spot. Therefore, we offer you the HYGISUN antigenic saliva self-tests, which are packed in packs of 1, as well as a larger pack of SANSURE antigenic self-tests for swabbing the front of the nose.
In addition, we have a wide range of certified FFP2 NR respirators for both adults and children, which are mandatory from 25.10.2021 both in the workplace and indoors.